FLEX ERA® 1 - 2-Light Master Kit
More Information

| | |
| --- | --- |
| SKU | 0265 |
| Weight | 4.000000 |
| Type | FE1 |
| Family / Series | FLEX LED |
| Product Dimensions | W - 2.6" x H - 2.72" x D - 2.9" |
| Material | Aluminum Alloy |
| Finish | Black |
| Mount Location | Bumper, Overhead / Roof, Rear / Trunk, Roof |
| UPC | 084709002657 |
| Candela | 4510 cd (flood) / 16200 cd (spread) / 31000 cd (spot) |
| Color | Black |
| DOT Compliant | No |
| In The Box | 2 x KC FLEX ERA® 1 LED Lights with Spread Lens, Wiring harness with Weatherproof Connectors, 3-position switch, 2 x Mounting Bracket, 2 x Clear Spot Lens, 2 x Clear Flood Lens, 2 x KC Covers and Mounting hardware |
| IP rating | IP68 |
| Beam Pattern | Spread |
| Beam Distance | 67.2 m flood / 127.3 m spread / 176.1 m spot |
| SAE/ECE | No |
| Light Color | White | Amber |
| Lens Color | Clear |
| Light Temperature | 5000K |
| Lumens | 2430 lm |
| Lux | 45.1 lx (flood) / 162 lx (spread) / 310 lx (spot) |
| Wattage | 10W / 46W |
| Voltage | 9V-36V |
| Amp Draw | 0.83 a / 3.83 a |
| Prop 65 | No |
| Size | 3" |
| Tag Line | Compact Power, Limitless Versatility |
Versatile and Bright
This darkness slayer is the perfect companion for cruising trails and setting up camp with your buddies. Powerful, bright, and compact, just as the most versatile light in the FLEX ERA Family ought to be.
We've amped up the versatility of the KC FLEX ERA® 1 by including every beam pattern lens you'd want to be able to mount this light in any nook and cranny you can find. From the front, tucked just behind the changeable colored bezels, sits the clocked lens that allows you quickly change between spot, spread, and flood beam patterns. A patented FLEX ERA® 1 housing (Patent No. D967,475) with intricate and flowing heat sink fins and compact overall size makes it a party from the front or the back. The FE1 is built to be mounted anywhere you need it, throwing light out forward, sideways, or backward.
FEATURES
Master Kit includes all Beam Pattern Lenses:

Pre-assembled in Spread Beam
Flood Beam Lenses
Spot Beam Lenses

Two Power Modes for Style and Performance

Amber LED Backlight
Full Power (off-road use only)

Mountable right side up, upside-down, or sideways with the asymmetric bracket design
Customizable Machined Bezel Colors (sold separately)
Thermal LED Protection
IP68 Rated
Installation Guides
How to change out beam pattern lenses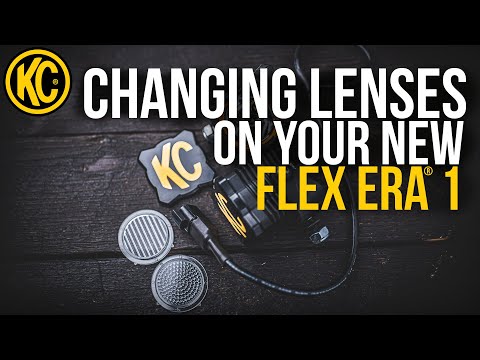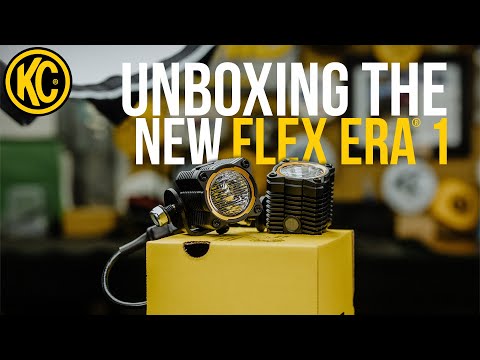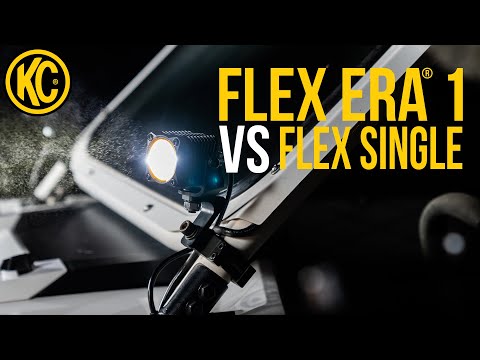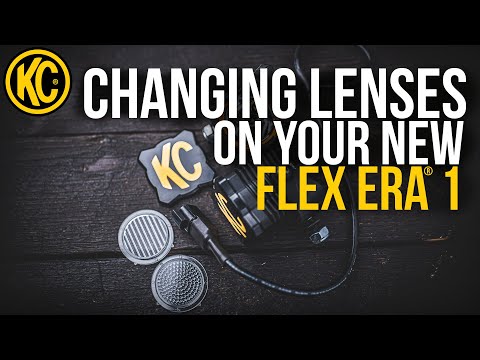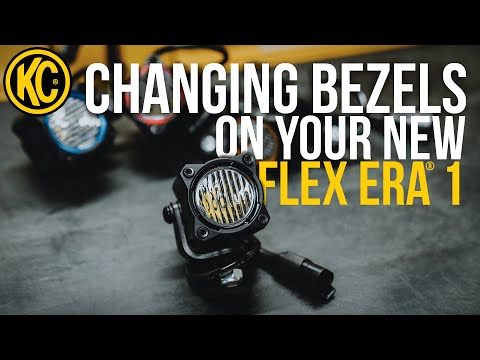 Frequently Asked Questions
What are the extra lenses that are included in the FLEX ERA® 1 box?
Each set of FLEX ERA® 1 lights come standard as a Master Kit, which includes all three beam pattern lenses that are available. The lights come preassembled with the Spread Beam lenses (vertical lines in the lens). There are also Spot Beam Lenses (complete clear appearance) and Flood Beam Lenses (dimpled/diffused appearance).
When should I use the included spot beam, spread beam, or flood beam lenses?
For those that desire the furthest possible distance out of their light output, the Spot Beam lenses will perform best. For those that want short to mid-range distance coverage while also having more horizontal coverage, the pre-assembled Spread Beam lenses will be best. And finally, for those that plan to use their lights to illuminate a wide and tall area without much distance, the Flood Beam lenses turn the FE1s into excellent scene or work lights.
Since the lens is designed to be swappable, how does this impact the warranty should anything happen? E.g. if water ingress occurs due to user error while swapping the lens?
Our standard KC Adventure Further Guarantee applies to these lights. We encourage you to swap out your lenses to see what works best for you - just do so in a clean and controlled environment. Feel free to check out our installation videos for best practices or give us a call and we'll be happy to assist!
Is flipping the FE1 light upside down recommended?
Sure! You can mount and orient the FE1 light in any position you need it to. Play around with different configurations of the a-symmetric bracket design that allows for even more diverse mounting options.
What is the difference between the FLEX ERA® 1 lights and the FLEX Single Lights?
The FLEX ERA® 1 is the replacement for the discontinued FLEX Single Lights. We took sizing and styling cues from the original, and evolved the light in every single way possible.
A single FE1 features 23W and 2,430 lumens of output compared to the older FLEX Single which was 10W and 975 lumens per light.
The FE1 is fractionally larger in all 3 dimensions than the FLEX Single was, while still being compact enough to fit in many nooks-and-crannies.
Finally, the FLEX ERA® 1 features an Amber LED Backlight for a bit more styling.
Are there options for colored bezels beyond the gold one on FE1 Lights?
Absolutely! Customization and personalization is as core to the FLEX ERA Family as performance is. We also offer the bezels in single quantities of red, blue, and black bezels.
What beam pattern would you recommend for a rear-facing dust/chase light?
The included flood beam pattern is perfect for a chase light when paired with an Amber Shield. This will throw light out in all directions which gives those traveling behind you a wider viewing angle to see those identifier lights as you are turned and twisting down the trails.
What's up with the two different mounting brackets?
The FE1 mounting bracket was designed asymmetrically to make sure you can mount the light practically everywhere. That also means that there is a bracket for the right-hand side and the left-hand side of your vehicle. What happens if you swap it? Nothing! It simply places the KC logo on the inner or the outer side of the vehicle - the choice is up to you.
Why is the mounting bracket only one-sided?
The a-symmetric bracket design solves 3 core needs for getting the lights into tight places: 1) Adjustable center height of the light, 2) Adjustable Forward and Backward Offset of the lights, and 3) Mounting the light directly in line with the mounting bracket due to rear Cable Strain Relief.
The brackets themselves feature adjustable mounting depth, width, height, and orientation. For an excellent visual representation of this, check out the PDF instruction guide to see the bracket in action.
Are the kits available without switches, fuses, and relays etc.?
A FLEX ERA® 1 Single light Master Kit (SKU 1265) can be purchased which includes 1x FLEX ERA® 1 Light, 1x Spare Mounting Bracket, 1x Spot Lens, 1x Flood Lens, 1x KC Cover and Mounting Hardware. For pair packs, we currently don't plan to offer full kits without switches, fuses, and relays as we aim to include everything someone would need for a complete install.
Do the FE1s include an amber backlight?
Yes. The FLEX ERA® 1 still has the main power circuit for the full brightness mode, and also uses a second power circuit to offer the Amber Backlight.
Do the FE1s include blackout covers?
Can I use light locks with the FE1s?
Yes, light locks are compatible with the FLEX ERA® 1 lights. Use SKU 7223 aka the M10-1.5 Light Lock Security Nut Set for these. But remember, don't lose the included key! Otherwise you'll have a fun evening with an angle grinder if you ever need to remove the lights.
Editorial Content
For Any of Life's
Adventures
No More
Guessing
Gone are the days of having to guess which beam pattern will be best for you. The KC FLEX ERA® 1 Master Kit bundles two lights + all three beam pattern lenses + spare o-rings + black and yellow KC logo covers + a complete wiring kit for everything you need to spend less time in the garage and more time out on the trails.
Versatility
meets

Performance

With 2,430 lumens of power in a compact package, the FE1 is the perfect companion for cruising trails or setting up camp with your friends. It can be used for all short-range lighting applications from bumper and ditch lights, to dust lights and scene/work lights. Combine this with the Amber LED backlight for style, and you've got the best of all worlds.
Let there be
Light
For all of the nooks and crannies, the FE1 mounting bracket was designed asymmetrically to make sure you can mount the light practically everywhere. It features adjustable mounting depth, width, height, and orientation all within the included brackets. Now you have the freedom to mount lights in places that you never thought were possible.
Flex your
Style
We get it, everyone loves to personalize their rig. That's why we stuck with our tried and true FLEX LED® tradition and ensured that you can change and stylize the colored accent bezel to match your rig. The FE1 bezels come standard in gold, but you can pick up the bezels in deep red, rich blue, or gloss black to suit your needs.
Looks tough.
Is Tough.
Every part of the FE1 was made with meticulous attention to detail for limit-defying performance. The finned aluminum housing strikes the perfect balance between weight, ruggedness, and corrosion resistance, and its IP68 rating means you can spend more time in the dirt and less time worrying. The FE1s can withstand any dust, dirt, and water that you throw at them and keep on asking for more.
DESIGNED TO
MOUNT ANYWHERE
FORWARD FACING
Ditch lights, bumper lights, or steering knuckle lights. The compact size of the FE1s means they can be used in any nook or cranny.
SIDE FACING
From setting up camp to performing trailside repairs, the FE1s can be mounted as a side-facing flood light to illuminate the entire area.
REAR FACING
It's just as important to be seen by those behind you as it is to see ahead of you. Mounted in the rear, the FE1s have your back.
WHAT'S
IN THE BOX
Every set of FE1s comes standard as a Master Kit with absolutely everything you need to get up and running quickly so you can spend less time in the garage and more time out on the trails.
FLEX ERA
®
1 Light with Right-Hand Bracket
(1)
FLEX ERA
®
1 Light with Left-Hand Bracket
(1)
Spread Beam Lenses
(2 pre-installed)
Flood Beam Lenses
(2)
Spot Beam Lenses
(2)
Lens Replacement O-Rings
(2)
Complete Plug-N-Play Wiring
Harness with LED Switch
(1)