Off-Road Lighting

Knowledge Base

Our KC lighting experts have provided terminology and technical information to help you select the best lights for your vehicle.
Optic Technology
Because lighting needs are not one-size fits all, we cover three types of optics that deliver results for different lighting situations.
Beam Pattern
In order to create optimal lighting for your vehicle, it's important to understand where different beam patterns focus the light.
Performance Metrics
When comparing light brightness or luminance, you'll most often hear about Lumens, Lux & Candelas.
Light Sources
The differences and best uses for Light Emitting Diodes (LED), High-Intensity Discharge (HID) and Halogen lights.
Power Draw
Knowing the power draw of your lights and how it will affect your battery is key.
Street Legal Compliance
For headlights to be street legal they must meet & be marked with the regulations adopted by that country.
Protection Rating
An IP rating of LED light is the measurement of protection that LED light will have against liquid (water) and solid (dirt, dust etc.) objects.
Color Temperature
Color temperature is most commonly measured in terms of degrees Kelvin (K) where lower values appear warm and higher appear cool.
Light Mounts & Brackets
Mounting locations and simple bolt-on products used to add lighting to your vehicle.
Accessories
Customize and protect your lighting investment.
Optic
Technology
Gravity Reflective Diode (GRD)
With our patented GRD technology, the LED faces back into the reflector and light is reflected forward so we can craft a beam pattern specific to your needs. This patented LED positioning and optical system exponentially improves light culmination efficiency and light output limitations that forward projecting LEDs typically face in performance lighting.
Key benefits
Precision beam pattern shaping without additional lens fluting that reduces output efficiency
Maximizes the efficacy of the LEDs raw lumens
Low wattage and amp draw through traditional reflector optics
---
Total Internal Reflection (TIR)
A physics phenomenon that occurs when light is passed through two or more physical mediums (plastic, glass, etc.) and boundaries (surfaces) creating both reflection and refraction of the light. By positioning a light source and coupling it with KC engineered TIR lenses we are able to intentionally direct and shape light to optimize output. KC designs and engineers all of our own injection-molded TIRs that use high-quality composite materials delivering clarity and transparency in the light output. Although there are more surfaces for the light to pass through, TIRs are extremely efficient, lightweight, and compact.
Key benefits
Efficient, lightweight, and compact overall light size
Clarity of light output through the transmissions efficiency
---
Forward-Facing Reflectors (FFR)
The traditional optical standard, where a metalized reflective cone (reflector) is positioned over the light source.The reflector collimates the light from the light source and allows us to collect, direct and shape the light energy. Forward-Facing Reflectors are simple and relatively cost-effective compared and have less surfaces for the light to pass through.
Key benefits
Simple to design and manufacture
Cost effective
Beam
Patterns
Picking a beam pattern is very unique to each person, how their eyes see light and the environments they travel in. Often the right solution boils down to where you will go and what you need to see on your adventures. In general, you are aiming to have a balanced lighting configuration that provides some visibility up close and near-field but be prepared to throw some light at farther distances. This means a combination of a few beam patterns will probably prepare you best for all of your trips. You wouldn't want only spot pattern lights on your vehicle as you wouldn't have great short range and peripheral illumination, conversely you also don't want only fog beams because then you wouldn't see objects you're approaching that are farther away at longer distances.
Beam Pattern Overview
Performance
Metrics
Lumens vs Lux vs Candela
In the same way that horsepower alone cannot determine a vehicle's performance, the stated potential of a driving light doesn't equate to real-world, usable light output. It is up to the light manufacturer to best harness and control that light potential.
Lumens are how much potential light is given off
Lux is how bright your surface will be
Candela measures the visible intensity from the light source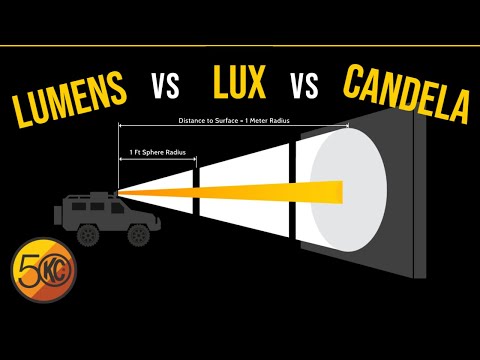 ---
Lumen
Lumen is a base metric that we use to indicate the total potential amount of light from a light source (I.e. LED Diode, Halogen Bulb, HID Bulb). This metric is usually provided by the light source manufacturer (I.e. Cree, Phillips, OSRAM).
When looking at LED lights, many specify raw lumen ratings. This is simply the theoretical maximum potential, which comes from the rating of each individual LED chip being multiplied by the total number of chips. The actual measured output or effective lumens of the light may be much less than the raw lumen count given. It's for this reason that we place more emphasis on measuring effective light output using lux and candela.
---
Lux
Lux is the measure of light at a specific distance within a specific area at that distance. Typically Lux is measured at 10 Meters and within a square meter of space at the 10M target.
---
Candela
Candela is the total strength, volume & intensity of light within a certain beam angle and direction.
Light
Sources
Halogen vs LED vs HID
If you want the ultimate light with the best lux value per watt and want to light things up that are really, really far away then HIDs will be best for you.
If you're looking for a light with good performance at low cost, you'll probably be looking at halogens.
If you fall in between these and want a light that is affordable and delivers great performance while being incredibly durable and efficient, then start looking at LEDs.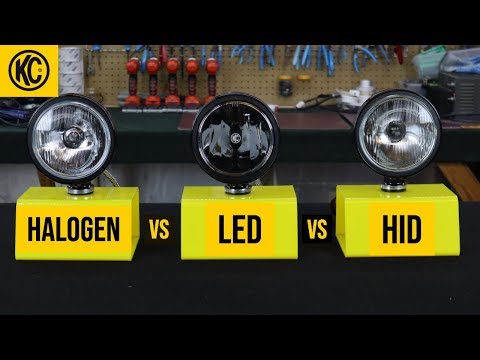 ---
Light Emitting Diodes (LED)
KC solid state LED Lights produce cool, bright light beams and are extremely power efficient. KC LED lights are long-lasting, durable and create a great amount of light at short and medium distances - with some of our flagship LEDs reaching far distances.
Pros
Great power efficiency resulting in a low amp draw for a bright light
Smaller form factor than other off-road lighting types
Long-lasting and durable
No warm-up period required
A good balance between cost, light output, and power efficiency
Cons
As color temperatures increase (~6000K +), it can lead to reduced visibility in rain, snow, or fog
Produce heat behind the light emitting diode, which requires the light to have a thermal management system
Cannot defrost themselves in colder environments
---
High-Intensity Discharge (HID)
KC HID Lights produce light beams that illuminate long distances. Their Lux and Candela measurements can exceed 2-3 times the light output to similar wattage LEDs and Halogens. HIDs are the most balanced across output, cost and power draw.
Pros
Best light output of all standard off-road light types, especially at long distances
Most balanced between cost, output, technology, and power
Can also defrost themselves in colder environments
Cons
Require a short warm-up period (typically lasting only seconds)
Require ballasts that increase the voltage needed to run the lights, which can give off electromagnetic interference (EMI) if the light manufacturer didn't account for this
---
Halogen
KC Halogen Lights produce a warm, dense light. They are very cost effective, mechanically simple, and deliver solid light output at medium to long distances.
Pros
Most affordable type of off-road light
Good light output for the money/most bang for your buck
Warmer color temperature (~3200K) resulting in better visibility in rain, snow, or fog
Can defrost themselves in colder environments
Cons
Low power efficiency as much of their energy is given off as heat rather than as visible light
An older technology
Power
Draw
Wattage
The wattage of a light is the amount of energy it takes to produce a certain amount of light. The higher the wattage, the brighter the light, but also the more power it uses.
Voltage
Voltage refers to the amount of electrical potential your battery holds. The standard automotive battery in today's vehicles is a 12-volt battery. Each battery has six cells, each with 2.1 volts at full charge. A car battery is considered fully charged at 12.6 volts or higher.
Amperage
Amp draw measures how hard your battery must work to run. You'll want to make sure your battery & alternator can support your lights by reviewing the light's amp draw. Using the normal formula for amps (watts/volts) can result in misleading calculations. The amp draw of a light with multiple LED diodes is impacted by how the LEDs are wired. A single 100-watt bulb's amp draw would be 100w / 12 v = 8.33a. However, a 100-watt LED light that is composed of 20 LEDs that are 5W each, and wired in series will draw much less. The lower amp draw of LED products may require an update to your vehicle's electrical system to prevent the system from detecting the LED light as a malfunctioning light.
Street Legal
Compliance
Are LED Light Bars & Auxiliary Lights Street Legal?
The main differentiation of street legal lights are brightness, color and the angle of light, so other drivers are not blinded.
For off-road only lights, a few state regulations additionally require you to have them completely covered when driving on the road. Most states have varying regulations, so it's up to you to know your state's exact rules. Refer to our state by state resource guide for more information.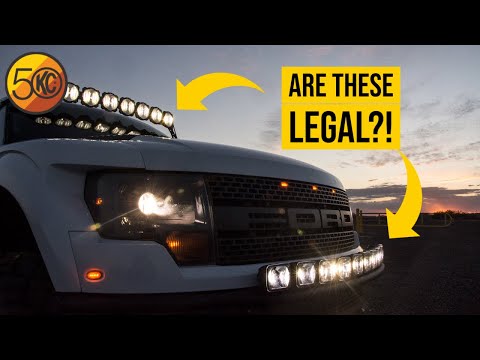 ---
DOT
Created by the United States Department of Transportation, for use in the U.S. & Canada. Meeting DOT lighting standards guarantees your lights are federally compliant in the United States for visibility, durability, and reliability to secure the safety of others.
---
ECE
Created by the United Nations Economic Commission for Europe. ECE-compliant guarantees your lights are compliant in the European Union and in non-European countries that have adopted ECE Regulations for visibility, durability, and reliability.
---
SAE
SAE J583 is the Society of Automotive Engineers (SAE) designation of the fog beam pattern, it specifies a very wide beam with a flat horizontal cut off allowing minimal light above the horizontal cut off plane.
Protection
Rating
There are two numbers in the IP (Ingress Protection) rating - the higher the number the better the protection. KC products range from IP54 - IP68.
The first number (0 to 6), shows the resistance against SOLID objects:
5 - Protection against dust, limited ingress permitted
6 - Total protection against dust
The second number (0 to 8) implies the protection against WATER:
4 - Protection against water splashed from all directions, limited ingress permitted
5 - Protection against low pressure jets of water from all directions, limited ingress permitted
6 - Protection against powerful jets, limited ingress permitted
7 - Protection against the effects of immersion in water up to 1 meter for 30 minutes
8 - Protection against the effects of immersion in water up to 10 meters, for long periods
As an example, an IP64 rating provides complete dust protection, but for liquids, it would provide protection against splashing water only.
Color
Temperature
White Vs Amber Lights
The difference between amber and white lights is simply in their color temperature - which is how the perceived color of light is measured. Color temperature is most commonly measured in terms of degrees Kelvin (K). Lower values of around 2500-4000K appear more yellow/amber (warm) and higher values of 4000-7000K begin to appear white and even into the blue/violet range at the upper end (cool).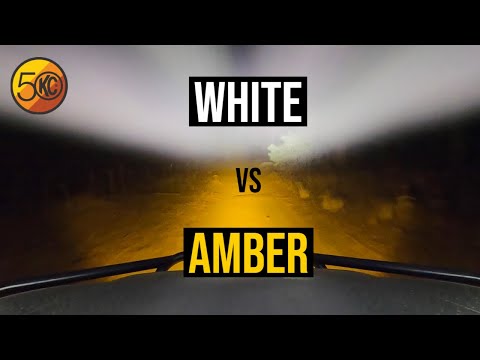 ---
Warm light (red to yellow)
Penetrates dust, fog, rain and snow with minimal reflection, thanks to its long wavelengths, but it can impair the ability of our eyes to discern color.
Cool light (blue to violet)
Can appear very bright, but it produces glare and reflections due to its short wavelengths and can cause eye strain. A color temperature as close to natural daylight as possible (4500K+) will be easiest on eyes, provide ample illumination, good contrast, and accurate color rendering.
For the most balanced lighting setup, a combination of amber lights and white lights is best — or at least having the option to turn your white light into an amber light with a clip-on transparent shield.
Image shows clear shield on left and amber on right
Light

Mounts & Brackets
Ultimate Mounting Location Guides
View our guides to learn more about specific mounting location benefits and limitations, how to aim your lights, best beam patterns for each location and more.
Fitment
The majority of KC products have a Universal Fit, which means they will work with many different vehicles.
We also offer a selection of vehicle specific products - use our Year, Make, Model finder to locate lights and mounts that specifically fit your vehicle.