FLEX ERA® 4 - 2-Light Master Kit
More Information

| | |
| --- | --- |
| SKU | 0289 |
| Weight | 7.300000 |
| Type | FE4 |
| Family / Series | FLEX ERA |
| Product Dimensions | W - 5.0" x H - 5.0" x D - 3.27" |
| Material | Aluminum Alloy |
| Finish | Black |
| Mount Location | A-Pillar / Ditch / Windshield, Bumper, Overhead / Roof, Roof |
| UPC | 084709002893 |
| Candela | 161000 cd (combo) / 180000 cd (spot) |
| Color | Black |
| DOT Compliant | No |
| In The Box | 2 x KC® FLEX ERA® 4 Combo Beam Lights, 2 x Universal Mounting Brackets, 2 x KC Light Covers, 2 x Spot Lenses, Wiring Harness with Weatherproof Connectors, Illuminated 3 Position LED Light Switch |
| IP rating | IP68 |
| Beam Pattern | Combo |
| Beam Distance | 324 m combo / 591 m spot |
| SAE/ECE | No |
| Light Color | White |
| Lens Color | Clear |
| Light Temperature | 5000K |
| Lumens | 7,912 lm |
| Lux | 1,610 lx (combo) / 1,800 lx (spot) |
| Wattage | 160W |
| Voltage | 9V-36V |
| Amp Draw | 13.3 a |
| Prop 65 | No |
| Size | 5" |
Strength, Style, and Sophistication
The KC FLEX ERA® 4 is your guiding light to thrilling adventures. This powerhouse is ready to light up the blindest corners and the darkest trails, and will turn daunting terrains into exhilarating challenges. This genre-bending light retains the iconic features of its FLEX ERA brethren: high-performance output, versatility, customization, durability, and distinctive aesthetic design.
The biggest and most powerful light in the FLEX ERA family, the FE4 glows above the rest with a staggering 7,912 lumens of intense brightness, encapsulated in a sturdy 5" by 5" casing. The light's trail-blazing potency will etch light deep into the darkness, delivering unswerving stability and visibility.
The FLEX ERA® 4 transforms to match your needs perfectly, thanks to its customizable beam pattern lens, changeable colored bezels, and light shields.
At the heart of it all, the powerful FLEX ERA® 4 isn't just about lighting up the trail, it's about illuminating the spirit of Adventure. Whether you're off-roading in Jeeps, trucks, Sprinter vans, UTVs, or SUVs, the FE4 beckons you to fire it up and let the good times blaze!
FEATURES
Master Kit includes all beam pattern lenses:

Pre-assembled in combo beam
Spot beam lenses

Two power modes for style and performance:

Amber LED backlight
Full power (off-road use only)

Mountable right side up or upside-down
Customizable machined bezel colors (sold separately)
High-performance output with 7,912 lumens
Versatile to be used as ditch lights, bumper lights, and even overhead lights, on various vehicles such as Jeeps, trucks, Sprinter vans, and UTVs.
Thermal LED protection
IP68 rated
Race-Proven Durability
Installation Guides
Installing Flex Era 4 Lights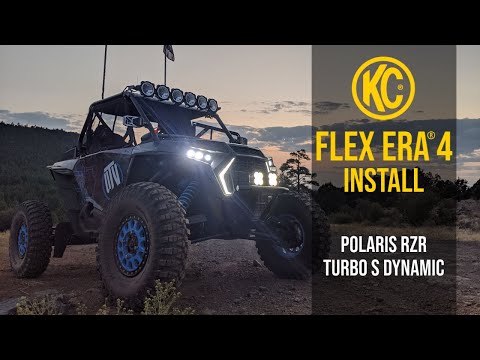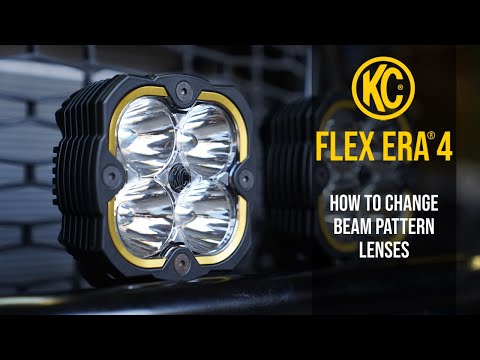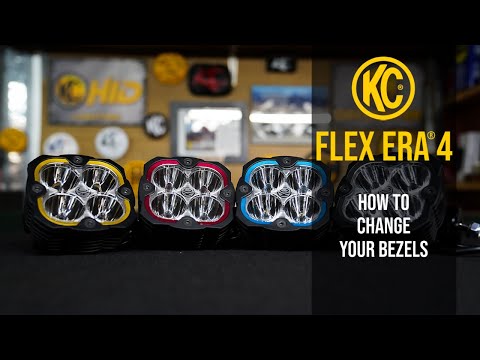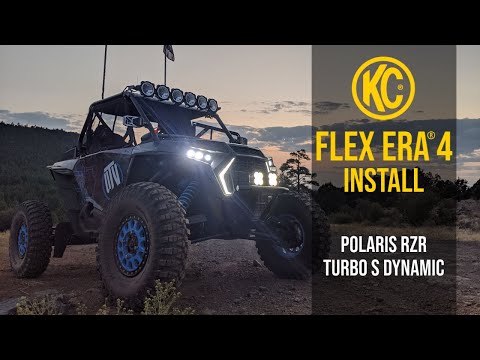 Frequently Asked Questions
What exactly is a "Master Kit"?
The new Master Kits now include both beam pattern lenses in the box, rather than needing to buy them separately. Each light will come pre-assembled with the popular Combo Beam lens, along with the Spot Beam lens/s and spare gaskets in the box as well.
Are these lights different from the previous FLEX ERA 4 lights?
The lights themselves have not changed. These lights include the upgraded Amber LED that we recently implemented.
What happened to the previous SKUs 1286, 0286, 1287, and 0287?
These are discontinued and will no longer be available. Instead, they are transitioned into two new consolidated Master Kits - SKU 0289 for the pair pack and SKU 1289 for the single light option.
I ordered my product through RESERVE by KC. When should I expect my order to arrive?
RESERVE by KC adds and holds your place in our queue. As soon as the product is available, it prioritizes your shipment. This is the only way we can guarantee you will get your products right when they become available and get you back on the trail to Adventure Further®. For more information on how RESERVE by KC works, please visit our help article here.
Will your lights work with my vehicle?
The majority of our available lights are meant to be universal lights in that they can be adapted to fit just about any application. If we do not have mounts for your specific vehicles, you may be able to find something that works online or possibly can have something custom fabricated by a local fabrication shop. Our available mounts and brackets can be found here.
Do I need to drill into my vehicle in order to have a clean wire install?
There are many ways to wire your lights to your vehicle. Drilling in and routing the wires through the vehicle is one way. We at KC prefer an easier wiring method for overhead lights especially by running the wires down the windshield and using our Universal Wire Hider to help us conceal the wire harness for a clean professional look.
What covers will work with my lights?
All of the covers & shields that will fit this product can be found in the Accessories tab.
Do you have light locks that will work with my lights?
We have light locks in various sizes to accommodate our whole line of lights and light bars. To find the light locks that best fit your needs, please check out our bolt spec sheet here.
If I purchase two pairs of lights, can I wire them both to the same switch?
If you have multiple sets of lights, light bars, and auxiliary electronics, the easiest way to wire them all together is to use a switching system. If you want something a little more simple, we do have a wire harness that will allow you to wire up to four single lights to one switch. This product will not work with the FLEX ERA series of lights at this time. Our Add-on Wire harness can be found here. All of our additional wire harnesses and wiring accessories can be found here.
Can I upgrade my lights using my old halogen wire harness?
Yes you can! All of our LED pair packs with the exception of FLEX ERA lights can be wired to your existing halogen wire harnesses as long as they have the 2 pin DT connectors.
Do you offer amber lights?
Our amber options are limited at this time, however we do offer amber covers for some of our more popular options. All of our amber light covers can be found here. If you are interested in an amber fog light, we do have our G4 Fog lights available with an amber color option and those can be found in the drop down option on the product pages here.
Can you wire more than 2 pairs of FLEX ERA 3 or 4 together?
At this time we do not have a wire harness that will achieve this. That being said, we have seen our customers using a switching system like their factory switch panels, SPOD, or Switch Pro type system to power these lights using a single switch.
Editorial Content
STRENGTH
AND STYLE
From end to end, the FLEX ERA 4 shines with its unique character. Its distinctive, purposefully finned housing design underscores its strength and flair. 7,912 lumens per light ensure you'll never get lost in the dark again.
NO MORE
GUESSING
Gone are the days of guessing which beam pattern is right for you. The KC FLEX ERA® 4 Master Kit provides two lights, both beam lenses, spare o-rings, black and yellow KC logo covers, plus a full wiring kit. Spend less time tinkering and more time trailblazing with everything you need in one convenient kit.
MAKE A
STATEMENT
The FLEX ERA® 4 helps you stand out in the crowd thanks to its Amber LED backlight. This can be used on-road or off-road, daytime or night time, and gives you an added touch of style.
ENDLESS BEAM
POSSIBILITIES
As your adventure changes so can your beam pattern. Change your beam pattern simply by replacing your lens optic.
PERSONALIZE
YOUR LIGHT
In classic FLEX LED® tradition change and update the color bezel trim and colored covers to match your rig and your needs.
OFFROAD RACE-TESTED
Our products go through rigorous testing which always begin in the most demanding situations.
ADVENTURE-READY
Rain, fog, snow and sleet the FLEX ERA family of products are designed for unpredictable elements.
PERSONALIZE & CUSTOMIZE
From colored bezel trims to beam pattern lenses easily configure your product for a specific look and performance need.
WHAT'S
IN THE BOX
Whether you're using a switching system or need to wire your own we've got you covered. Everything you need is included in the box. See our easy installation video.
80W KC® FLEX ERA® 4
LED Lights, pre-assembled with
Combo Beam lenses
(2)
Clear Lenses - Spot Beam
(2)
Light Covers - Black with Yellow
KC Logo
(2)
Wiring Harness and
3 position switch
(1)
Ready for
any adventure

,
anywhere and on anything