FLEX ERA® 3 Dual Mode SAE Fog Lights - 2-Light Master Kit
More Information

| | |
| --- | --- |
| SKU | 0284 |
| Weight | 3.750000 |
| Type | FE3 DM SAE |
| Family / Series | FLEX ERA |
| Product Dimensions | W - 3.6" x H - 3.5" x D - 2.6" |
| Material | Aluminum Alloy |
| Finish | Black |
| Mount Location | Bumper, Fog |
| UPC | 084709002848 |
| Candela | 9,440 cd / 19,984 cd |
| Color | Black |
| DOT Compliant | Yes |
| In The Box | 2 x KC® FLEX ERA® 3 SAE clear light, 2 x Universal mounting bracket, Wiring Harness with Weatherproof Connectors, Illuminated 2-position LED light switch |
| IP rating | IP65 |
| Beam Pattern | Combo |
| Beam Distance | 84 m / 124.6 m |
| SAE/ECE | Yes |
| Light Color | White |
| Lens Color | Clear |
| Light Temperature | 5000K |
| Lumens | 3,682 lm / 5,949 lm |
| Lux | 94.4 lx / 199.8 lx |
| Wattage | 70W / 110W |
| Voltage | 9V-36V |
| Amp Draw | 5.83 a / 9.17a |
| Prop 65 | No |
| Size | 3.5" |
| Tag Line | Street legal and off‑road all in one |
ALL YOU NEED, ALL IN ONE
Flexibility radiates from the core of the FLEX ERA Family, and the KC FLEX ERA® 3 Dual Mode SAE Light clocks in for multiple jobs at once. This kit comes with everything you'd want out of a street-legal fog light. Rock the pre-installed clear lenses for pure performance on those foggy mornings before the caffeine hits, or use the included Selective Yellow lenses for greater visibility in heavy rain, fog, snow, and dust. Light up the roadways with the SAE J583 fog beam as your "low beam", then flip the switch for an off-road, high-output "high beam" when you cross into the dirt. The FE3 DM SAE is built to be everything you need, all-in-one.
Installation Guides
FLEX ERA 3 DUAL MODE SAE Lens Swap Guide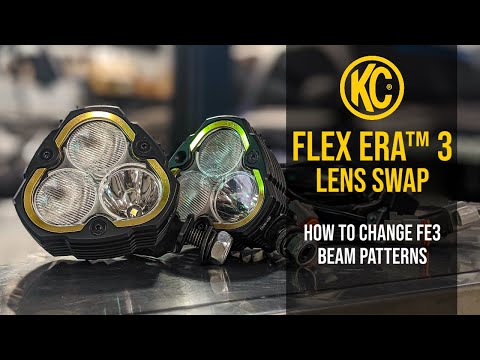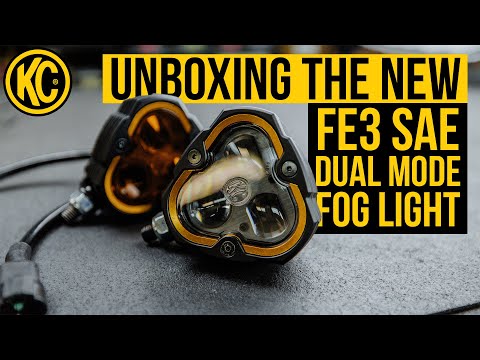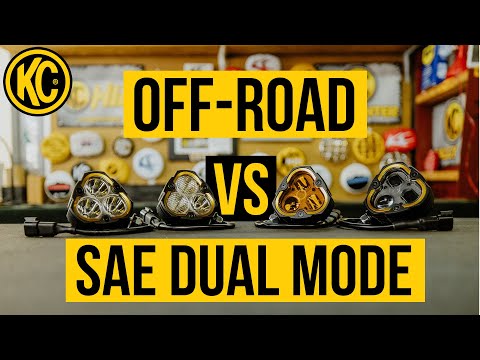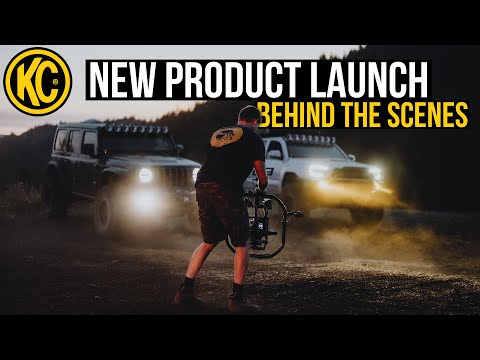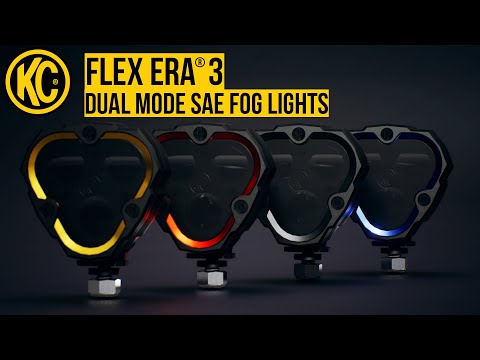 Frequently Asked Questions
When should I use the selective yellow lenses, and when would I want to use the clear lenses?
For those that desire the highest intensity output, the clear lenses will provide the most performance. For those that consistently drive in heavy rain, fog, snow, or dust, the included selective yellow lenses will provide greater visibility in such conditions.
Since the lens is designed to be swappable, how does this impact the warranty should anything happen? E.g. if water ingress occurs due to user error while swapping the lens?
Our standard KC Adventure Further Guarantee applies to these lights. We encourage you to swap out your lenses to see what works best for you - just do so in a clean and controlled environment. Feel free to check out our installation videos for best practices or give us a call and we'll be happy to assist.
Is flipping the FE3 SAE light upside down recommended?
No, due to the biased-beam configuration of the SAE lights, flipping them upside down would place the fog beam above the off-road beam in an undesirable manner. Keeping them right-side up allows for the maximum performance and coverage of both beams.
Can I change out my FE3 Off-Road lights to FE3 SAE lights?
If you already have the FE3 Off-Road lights in a fog pocket or front bumper, the wiring harnesses will not be interchangeable due to the load differences between the off-road and SAE versions of the light. However, the form factor and size is all the exact same between the two lights.
Can I use the colored bezels on FE3 SAE lights?
Yes - the red, blue, and black bezels that are sold separately will work on all FLEX ERA 3 products, regardless of if they're off-road or SAE versions.
Will shields & covers work with my FE3 SAE lights?
In most fog pocket applications, a cover or shield can't be easily applied or removed when the light is installed in a fog pocket bracket. The fog mode can't be used with the amber covers and remain street legal.
What is the difference between selective yellow and amber?
The selective yellow lenses and color temperature allow us to stay compliant to SAE standards, while maintaining maximum levels of intensity from the light. The amber snap-on shields used on our off-road lights are not recommended for use on SAE lights as they're not SAE compliant at this time.
Are the kits available without switches, fuses, and relays etc.?
A single light Master Kit (SKU 1284) can be purchased which includes one single light and a single selective yellow lens. For pair packs, we currently don't plan to offer full kits without switches, fuses, and relays as we aim to include everything someone would need for a complete install.
How do the SAE versions compare to the traditional combo or spot versions of FE3s?
The off-road versions (combo and/or spot beams) of the FLEX ERA 3 will have more intensity and a larger beam pattern when compared to the FE3 SAE. Please refer to the following specs or FLEX ERA Family to view beam pattern comparisons.
SAE Fog - 3682 lm, 94.4 lx
SAE High - 5949 lm, 199.8 lx
Off-Road Combo - 3,672 lm, 300 lx
Off-Road Spot - 3,672 lm, 800 lx
SAE J583 is a compliancy standard set forth by the Society of Automotive Engineers (SAE). This is their designation of the fog beam pattern calling for a wide beam with a flat horizontal cut off. The fog beam is intended to be low and wide, so the driver can see the sides of the road in poor weather without light reflecting back into the driver eyes.
Do the FE3 SAEs include an amber backlight?
No. The FE3 SAE Fog Lights use the second power circuit to offer the off-road, high-power beam rather than the amber backlight.
Do the FE3 SAEs include blackout covers?
No. Because the FE3 SAEs are SAE J583 compliant and are able to be used on paved roadways, there isn't a need to cover them with a blackout shield when mounted below or in-line with the vehicle's headlights.
Can I put the SAE selective yellow lens on an off-road FE3?
We don't recommend using the SAE selective yellow Lenses on the off-road versions of the FE3s. The internal optics of both lights are completely different and simply changing the lens will not make an off-road light street-legal.
Is there a max height that the fog light can be mounted?
In order to be street-legal, these fog lights must be mounted below or in-line with the vehicle's headlights.
Does this product require drilling within the fog pocket?
Our vehicle specific fog pocket kits are plug-and-play with no modifications such as drilling or cutting needed. These provide the easiest and cleanest way to swap out your factory fog lights for performance oriented fog lights.
Can I use light locks with the FE3 SAEs?
On the kits using the universal bottom mount bracket (SKUs 284, 1284, 97147, and 97155), light locks are compatible for use. On the remaining SKUs, light locks are incompatible with the vehicle-specific brackets and are often tucked away in a position that it's not as easily accessible anyway.
Editorial Content
FREEDOM TO CHOOSE


YOUR OWN PATH
FOGGY NIGHTS OR
DUSTY TRAILS
From foggy mornings on the roads to dusty nights in the dirt, we have you covered by including both clear and selective yellow lenses. Use the clears for the maximum amount of brightness and for the purest version of the FE3 DM SAEs. Switch it up and run the yellows for peak penetration through heavy rain, fog, snow, and dust.
ON-ROAD &
OFF-ROAD
With an intense on-road SAE J583 fog beam, and an off-road use only mode combining the fog beam with a high-output spot beam, the FLEX ERA 3 Dual Mode SAE lights are the best of both worlds and can be used wherever your path takes you.
BEAUTY MEETS
PERFORMANCE
Front to back the KC FLEX ERA 3 DM SAE is 100% unique. It features a specialized triangular design unlike any other on the market and has performance-oriented heatsink fins for shedding heat quickly and efficiently.
PERSONALIZE YOUR
LIGHT
Keeping with our tried and true FLEX LED® tradition, you can change and stylize the colored accent bezel to match your rig. The FE3 bezels come standard in gold, but you can pick up the bezels in red, blue, or black to suit your needs.
JEEP, TOYOTA, SUBARU &
MORE
For some of the most popular applications out there, our vehicle-specific kits make swapping out your factory fog lights a breeze. From JKs/JLs/JTs to Tacomas and 4Runners to Subarus, check out our vehicle kit options that include all brackets and wiring needed for an easy install.
THE SPEED OF LIGHT®
Our FLEX ERA family is built for ultimate performance, from on-road to off-road use in the most demanding situations.
ADVENTURE-READY
Rain, fog, snow, and sleet. The FLEX ERA family of products are designed for the unpredictable.
PERSONALIZE & CUSTOMIZE
Easily customize and configure your FLEX ERA 3 lights with different colored bezels for a specific look.
WHAT'S
IN THE BOX
Whether you're using a switching system or need to wire your own we've got you covered. Everything you need is included in the box. See our easy installation video to get up and running quickly.
KC FLEX ERA
®
3
Dual Mode SAE LED Lights
(2)
SAE Clear Lenses
(2)
(pre-installed)
SAE Selective Yellow Lenses
(2)
Premium Wiring Harness and
2-Position Switch
(1)